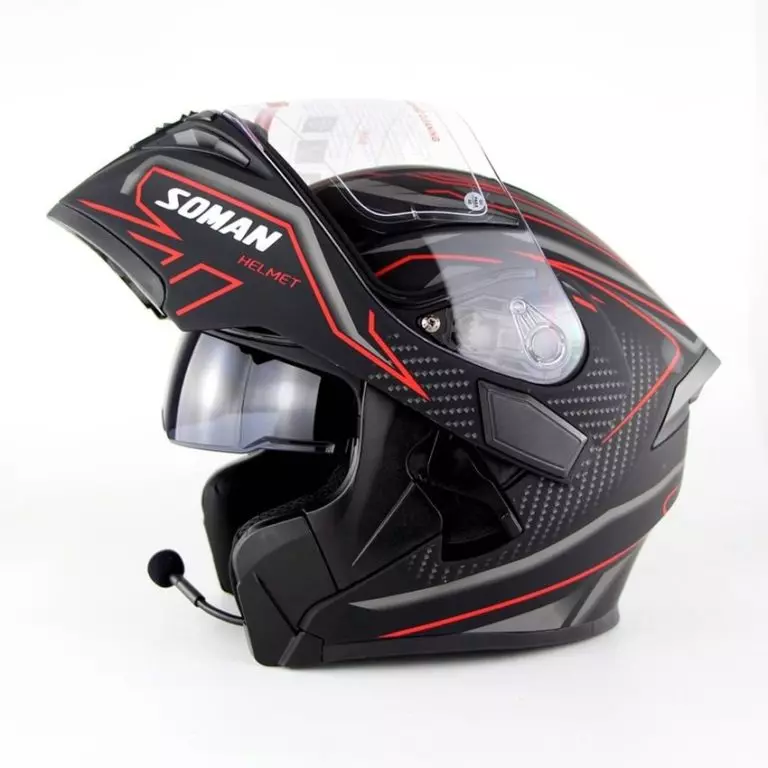 Best Choice
Second Best
ILM Bluetooth Integrated Modular Flip up Full Face Motorcycle Helmet Sun Shield...
Torc T14B Bluetooth Integrated Mako Full Face Helmet with Flag Graphic (Flat...
When it comes to riding a motorcycle, safety comes first, that is why communicating with other riders or your passenger could be quite the ordeal if not done properly.
Taking your hands off the handlebars in order to use your cellphone can lead to real tragedies.
In order to increase the safety of any rider and give the individual an opportunity to communicate Bluetooth motorcycle helmets have been created. They offer a serious range of benefits. You can listen to your favorite music or the radio. It enables communication with your fellow riders or passenger and also gives you the ability to answer or reject phone calls.
By already reading this article, the chance is that you have already decided to buy one, but because there are so many of them on the market, you don't know which one to choose. We collaborated with Brain from Rev Corner to make this list.
Let us help you make an informed choice and pick the one that fits you best!
1. ILM Modular Flip-Up – Full Face Bluetooth Motorcycle Helmet

As we know, what every fellow rider desires most is a long-range when it comes to a Bluetooth helmet.
With a promised range of up to 310 meters between two riders on a straight road, the helmet does not fail to deliver and the intercom is usable long distance.
Incorporating Bluetooth 3.0 Technology you get 8 hours of talk time and about 110 hours of standby at the tip of your finger as the helmet has one-touch control for different features such as calling, answering, rejecting calls or re-dialing. And as a bonus, any incoming phone calls overrides any other audio you might have active be it the intercom, radio or GPS audio.
The modular helmet feels like great quality, strong hinges, the stereo speakers are very clear even at high speeds and the airflow is very good.
2. Torc T14B Integrated Bluetooth Motorcycle Helmet 2023

Torc T1B is a full-face motorcycle helmet equipped with the BLINC 3.0 Bluetooth that pairs easily, works great has up to 400 meters intercom an excellent battery life (24 hrs talk time and 600 hrs standby) and charges fast.
Not only you have dual stereo speakers that deliver great sound but the built-in anti-noise microphone really does the difference. Also, at the touch of your finger, you can accept or reject calls.
Not only that you get a great design with this helmet but it is also comfortable and firm to the head with the Bluetooth knob being a good spot. The helmet has great airflow, the visor is adequate, and is overall DOT certified.
3. BILT Techno 2.0 – Safest Motorcycle Helmet 2019

The Bilt Techno 2.0 is known as the safest motorcycle helmet of 2019. It includes a DWO-3 Bluetooth system that allows the user to use it for two things at the same time like making phone calls and listening to music.
The intercom is a two-way system, meaning you can communicate with either other riders (up to 400 meters) or a passenger.
Comfortable and safe this helmet does not overheat and comes with a sun shield for really sunny days and a safety fastener to make sure it will stay in the same place under any circumstances.
4. O'Neal Commander Bluetooth Helmet

This Bluetooth helmet from O'Neal stays true to the brand values and comes in the same excellent quality we are accustomed to, combined with a stylish design. We also benefit from features like anti-scratch and anti-fog shields, full adjustable flow-through ventilation and a double D-ring chin strap with retention system with an adjustable nylon chin strap with a secure snap.
Incorporating Bluetooth 2.0 allows riders to communicate to up to 40 meters from one another and has a battery that provides 10 hours of talk time along with 130 hours of standby.
The Bluetooth can also be used for music, navigation, intercom and calls.
5. FreedConn Flip up Dual Visors Full Face Helmet, Built-in Integrated Intercom Communication System

The Bluetooth 3.0 technology on this helmet is amazing. You can communicate with 3 other riders on up to 500 meters from one another and 2 of them can talk at the same time and you will hear them both with the help of the 2 full stereos built-in speaker and DSP echo cancellation and noise suppression technology.
Long trip? Don't worry, you have 8 hours of intercom talking time and 110 hours standby and also your inner energy won't go to waste because you need only one finger for hands-free calls or if you want to reject or redial the last number.
All of that wouldn't be that amazing without the comfortable cheek pads and liner, anti-fog and anti-scratch shield, everything passing the UL, CE, BQB and DOT safety standards.
6. IV2 936 Modular Motorcycle Helmet + SENA SMH5 Bluetooth Unit

The model 936 is the latest model of IV2 is a Bluetooth ready helmet which comes packaged with the SENA SMH5 Bluetooth unit. The installation is quite easy and provides rider-to-rider intercom reception for up to 400 meters, dual pairing and verbal prompting.
The helmet itself is comfortable and DOT certified, has EPS impact absorption inner liner, an advanced lightweight durable shell and an anti-scratch visor. To add more to its safety it benefits of a Stainless Steel Dual D-Rings Strap with the button.
7. Origine O528B Pilota 3/4 Helmet with Blinc Bluetooth
We have to take into consideration our fellow riders that prefer to wear a ¾ – type of helmet and the Origine O528B Pilota is the best fit.

Along with the unique and classic design it incorporates a BLINC 3.0 Bluetooth with noise-canceling microphone and stereo speakers which are ideal when cruising with up to 65 kmh. Above this speed, it gets difficult to hear and speak as the wind interferes with the microphone.
Besides being cool it is also comfortable so I don't think anyone that wants a ¾ – the type of helmet will be disappointed with this one!
This resumes our top 7 Bluetooth motorcycle helmets. Please take into consideration that each and one of them have their advantages and their flaws so choose the one you feel strongest about.
So, which one did you buy? And how was it? Leave your opinion in the comments below
Take a look at some other models available on the market:
Read also: Best Bike Helmet Light