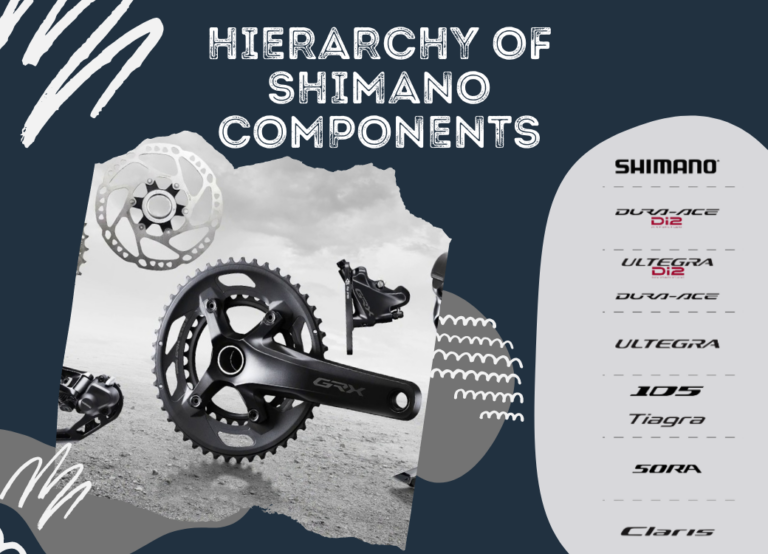 Whether you're shopping for a bike or intending to build or upgrade one on your own, you will need to know about the essential parts that make it work. Every bike has a groupset, which is a collection of parts and pieces that are responsible for making the bike run.
One of the top manufacturers for these parts is Shimano. As an incredibly reputable manufacturer, when it comes time to upgrade your existing unit or parts, you'll want to know all about the hierarchy to make sure you're choosing the right groupset.
In this guide, we'll discuss which groupsets are recommended for certain types of riders to make your choice simpler. For more details check outdooraxis.com.
What Is a Groupset?
Before we get into the hierarchy, let's delve into the definition of a groupset, as most novice riders might not know the importance of this term.
As previously mentioned, a groupset is a collection of parts that work together to make your bike work. This includes the brake levers, brake calipers (front and rear), shifters, bottom bracket, cassette, chain, crankset, and derailleurs (front and back).
It is highly recommended to pay close attention to these features after choosing the perfect frame to make sure you're getting the right bike for your riding style and your budget.
Shimano's Components Hierarchy
It's important to remember that when choosing components, you need to find the right ones for your style. Some riders might not need the power behind professional components, whereas professionals won't get the performance they need out of groupsets on the lower end of the hierarchy.
From most to least expensive, these are the premier Shimano components:
Shimano Dura-Ace (R9170, R9150, R9120, R9100)

As the top-tier selection for bike riders, Dura-Ace is the premier option in the hierarchy of Shimano parts.
Not only are they top-of-the-line in terms of price, but they also excel in performance where the other groupsets fall short. The excellence of these components is seen primarily through the secure shifting that sets into place with an effortless click.
Racers will also love how this groupset is by far the most lightweight in the entire Shimano range, providing effortless riding with minimal effort.
You'll also find that the shifters are indescribably comfortable as they are ergonomic, making them ideal for advanced riders. It's important to note the Dura-Ace is available with electronic shifting, as well.
Shimano Ultegra (R8070, R8050, R8020, R8000)

With the Ultegra, you're backing far away from entry-level components and dipping your toes into the waters of competitive racing. The strength and stiffness of the cranks are impeccable, as is the sharpness of the brakes against the rims.
You'll find the Ultegra is designed to be customized for the rider, so you will be able to manage the cassette from 11-23 to 11-32. This gives you access to plenty of smaller gears.
Another benefit is the lightness of the components. These are specifically designed for racing bikes so that they won't add a substantial burden to your frame. Also, Ultegra systems work effortlessly, allowing you to shift gears fluidly so that you can feel more confident while riding.
Shimano 105 (R7025, R7000)

Shimano 105 components are ideal for bike enthusiasts who are ready to take a step up from their entry-level parts but still don't want to invest in the higher-end groupsets. You'll appreciate the longevity, weight, and manufacturing quality of the 105 parts.
As it's a step-up from Tiagra, you'll notice a couple of improvements. First, your gear shifting is going to be substantially faster. The crankset is also stiffer, but it still doesn't feel too overwhelming to be used for daily commuting.
Also Read Shimano Sora vs 105 comparison by OutdoorGearsHub.
In 2015, Shimano 105 systems were newly available in 11 speed, when they were first introduced as a 10-speed option for riders.
Shimano Tiagra (4700)
As another entry-level groupset that you can get your hands on, the Tiagra is best suited for riders who want immaculate gear changes with no jerking.
When you shift gears, it will be sharp and crisp, which is by far the most significant selling point of this groupset, especially as you won't see much wear and tear after daily commuting over years of use.
Another exciting feature of these components is they are available in eight, nine, and 10 ranges of speed. These are also found in compact, double-, and triple-chainring options.
Shimano Sora (R3000)

Bikes equipped with Sora components are going to be slightly more expensive than those with Claris parts. This is mostly because they have drastically improved the quality and use of the elements.
One of the most significant advancements was the shift from an eight-speed to a nine-speed system, which also offers dual-control. Similar to the Claris, you can typically choose between triple or compact chainrings as well as 14-25 and 11-32 cassettes, which are ideal for up and downhill travel.
If you're someone who is a fan of aesthetics, you'll love to know that the entire groupset is painted in deep black, which will surely add to the modern look of your frame.
Shimano Claris (R2000)
Claris is often referred to as an entry-level groupset, but you will still be receiving high-quality parts for everyday rides. Commuters and sports enthusiasts will appreciate these components, primarily as these feature eight speeds with multiple configurations to choose from.
Riders will also appreciate that you can find anything from hubs to shifters in both triple and compact styles. According to triptothewild.com, adjusting the gears is equally as simple as with other entry-level groupsets, making it an incredibly user-friendly option for anyone.
How Should I Choose Appropriate Road Bike Groupset?
Choosing the right road bike groupset can prove as a challenging endeavor since you need to pay attention to multiple components, their value, and performance. To make this choice easier for you, we have assembled a brief list of guidelines you should follow to get the best value for your money's worth in the section below.
Weight
To get the best performance out of the groupset, you should opt for light yet functional parts. A lighter bike can accelerate much better than a heavier one, but something else needs to be compromised if you do not want to sacrifice strength.
The reduced weight of groupset drastically increases their price, and the more money you spend, the lighter they get. The weight difference directly results from more expensive components and materials or a more time-consuming manufacturing process.
Materials
When choosing a road bike groupset, it is important to consider the materials of which components are made. Since more expensive components equal higher quality, you should opt for ones that are made of carbon fiber, titanium, lightweight aluminum, or ceramic bearings to get the ultimate low weight and top-notch performance.
Durability
Durability is also one feature that drastically improves with the higher price. Expensive components are crafted with greater precision and grant you greater longevity. This fact is apparent when it comes to derailleurs and shifters, where cheaper options will slop over time.
Performance
When picking the road bike groupset, performance is one of the most important things to consider. Look for options that will provide you with more precise, smoother, and quicker shifts between gears. This means that you will have reduced effort on the lever which is something that becomes really important the longer you ride your bike.
Frequently Asked Questions
Which groupset is the best for a road bike?
All groupsets we have listed offer you excellent quality for road bikes. However, Shimano 105, is Shimano's first performance groupset and grants you an excellent combination of performance, value, and durability.
How long do road bike groupsets last?
This largely depends on how well you maintain them. The groupset that is well-maintained should last a couple of thousand miles before it starts to wear.
Are more expensive groupsets better for road bikes?
Generally, the answer is yes. More expensive components in groupsets grant you better performance and lower weight, which is very important when accelerating. Also, pricier components are more durable and will last you longer than cheaper ones.
Can derailleurs wear out?
No, it does not. Derailleurs last almost indefinitely, and although the jockey wheels can wear out in time, the rest of the mechanism will not.
What difference do lighter groupsets make?
First of all, they weigh less and grant you better acceleration. More expensive light groupsets also provide you with smoother gear shifting and excellent braking performance.
Final Thoughts
Although all Shimano components are made with impeccable attention to detail, the performance of the higher-end groupsets far outweighs their entry-level options.
From the Claris to the Dura-Ace, you will find that Shimano offers components built for every type of rider. Thanks to this, you can have the most confident, comfortable, and enjoyable ride possible.