We dog lovers want to take our furry friends everywhere we go – even on our motorcycles! Carrying your pup to the dog park or out in nature via your motorcycle can be challenging, but it's not impossible. This is particularly true when you realize that we need tips and recommendations from dog experts like The Pampered Pup on safe and comfortable dog carriers made especially for riding motorcycles.
Today's dog carriers for the motorcycle are designed for maximum safety and your pet's comfort. You can even add a doggie helmet for added safety. Let's take a look at these canine expert tips on how to choose the best carrier for your motorcycle doggie.
Dog Carrier
There are several motorcycle dog carrier styles you can choose from when shopping for the perfect pooch transportation system. You may choose a backpack carrier or a front carrier that's mounted onto your machine. Some owners even opt for a sidecar, especially if the dog is a larger pooch.
The optimum dog carrier for motorcycle riding should be both durable and versatile as well as safe. The issue comes about when you understand that all carriers have their own specific features as well as specs that not only affect your dog's comfort but may also have an effect on the balance and safety of your motorcycle. Therefore, it is crucial to consider several factors when choosing a motorcycle dog carrier.
Traveling with your pet is never easy, you would want what is the most comfortable position or carrier to be in. checkout "travooo.com" for more guide to travel with your pet.
1. Durability
First, consider the durability of the carrier. When you think "durability," don't just look for certain materials in the makeup of the dog carrier. Consider issues such as weather conditions and how the carrier will keep your dog safe in the instance of a crash. Your motorcycle dog carrier should be waterproof, first and foremost. Nothing will make Fido more uncomfortable than riding in a wet carrier. In fact, this can make for a miserable ride for the both of you! Consider a carrier that is made from heavy-duty plastic or aluminum.
However, there are waterproof canvas materials that will also keep your pup dry should you run into rain.
Another issue with durability is the ability of the carrier to remain intact should you have an accident. You must choose a carrier that will stay intact if an accident occurs. Look for products with extra straps to attach to your bike as well as an interior leash that will help to keep your dog restrained safely.
2. Security
Security is the next qualifier when looking to purchase a motorcycle dog carrier. Experts relate that you should first check out the door of the dog carrier. If the door of the carrier seems flimsy, then pass on to one that offers a more sturdy door. Also, some dogs enjoy a "top-loading" door system in which they can put their heads out and see what's going on (picture a dog with his head out of the car window; it's the same principle).
3. Lock System
Another must-have as far as the security of the dog carrier goes is a secure locking system. Make sure that Fido can't bump a button or a switch and unwittingly open the carrier as you're riding along. Some dog carriers offer the ability to "lock" the opening of the dog carrier. This just provides extra safety for yourself and Fido as you get on down the highway.
Next, you'll want to check out the interior of the dog carrier. Look for sharp objects that could scratch or cut your dog while riding. Unfortunately, some dog carriers are crafted in such a way that staples or sharp edges of carrier material could poke or even cut your dog as you ride. Be diligent in looking for these issues, as they may not be readily visible.
4. Interior Padding
It's also a good idea to expect a dog carrier offer some type of padding on the interior. The interior should be soft, with no sharp objects poking out.
So, now that I know what I should look for regarding the quality, interior, and materials of the dog carrier, how do I choose the right one for my needs as well as my dog's personality?
Some would rather not place a dog carrier on the front handlebars nor do they want to choose a side car. In that case, choose a dog carrier that places the dog directly behind the driver. Some dog carriers are designed to fit on the passenger pad of the motorcycle.
Choose a carrier that will have extra harnesses that attach to the sissy bar as well as holding straps for the front and side of the carrier.
Let's have a word about dog carriers that mount to the front of the bike. There ARE carriers that attach to the front of your bike, but these aren't highly recommended by experts.
Should your dog shift weight, the ergonomics of your motorcycle could be adversely affected. Therefore, save front or "basket" carriers for a ride on your bicycle, not your motorcycle.
Backpack-style Dog Carrier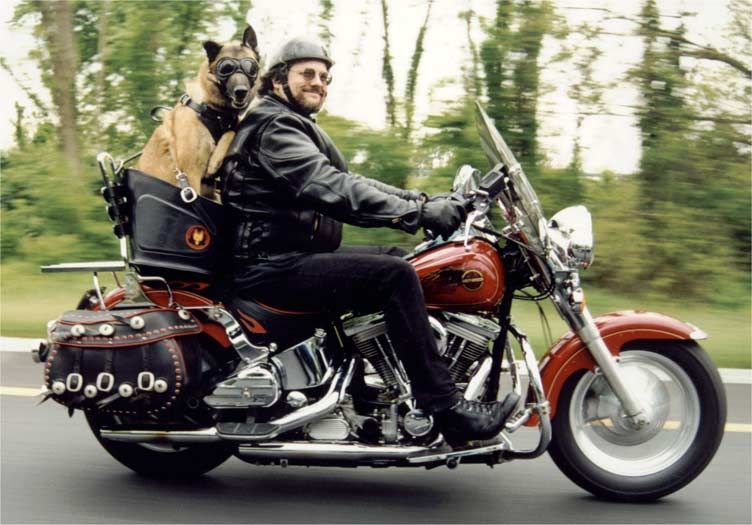 Some will opt for a backpack-style carrier. This is a good option as it does not place your dog's weight on the side or the front of the motorcycle. Make sure that the backpack carrier fits the criteria for durability and the interior of the backpack is free of any pointy edges. It's also very important to make sure the dog's carrier is proper for his weight.
Experts recommend that the backpack-style carrier is chosen for dogs that are small or of medium weight.
When choosing a backpack-style carrier for your dog, make sure that the carrier will attach to your bike safely. Some carriers will be strapped to your back, but others will allow for an extra strap to secure the carrier to both you and the bike.
Sidecar Carrier
Another popular type of dog carrier for motorcycles is a sidecar carrier. This is great for larger dogs who love to let the wind blow in their hair! However, the side car carrier MUST be made for dogs (you should never use a sidecar that was designed for humans, no matter how large Fido maybe). There should be secure straps inside and attaching to the bike as well. You'll want to check the interior of the sidecar for pointy edges just as you would a backpack carrier or a carrier that attaches to the back of the bike.
Riding your motorcycle can be a rewarding experience for both you and Fido! Once you find a safe motorcycle dog carrier, take Fido on a few short trips so that both of you can get acclimated to using the product. Choose other protective gear, such as goggles, for your dog riding in a carrier that offers the ability to leave his head out in the open. Finally, take a few treats and a water bottle along for all rides. Riding Fido on your motorcycle can and should be a hobby you enjoy together!