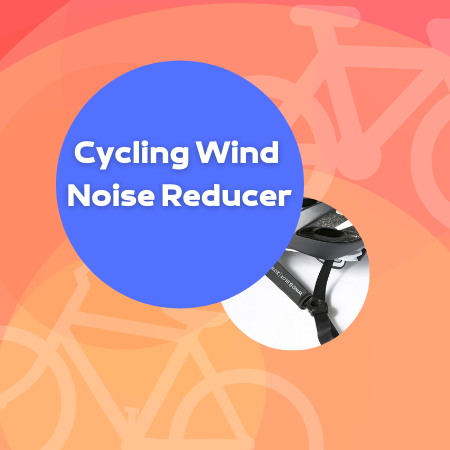 The wind noise reducer. An often overlooked, or simply unknown piece of cycling equipment. For cyclists of all levels, you can improve your situational awareness and protect one of your most valuable cycling assets, your hearing, with a wind noise reducer.
Best Choice
Second Best
Don't Miss
Cat-Ears AirStreamz Cycling Wind Noise Reducer
Wind-Blox Pro Noise Block Helmet Attachment, Noise Reduction Bicycle Helmet...
Wind-Blox Pro XL Helmet Attachment, Wind Noise Blocker Helmet Accessory, Noise...
It will be hard to find any downside to this deceptively simple, but well-engineered piece of gear. Each cycling wind noise reducer that is produced has to be designed with the physiology of your human hearing in mind, and how it reacts to wind noise, which includes a further understanding of aerodynamics and general acoustics.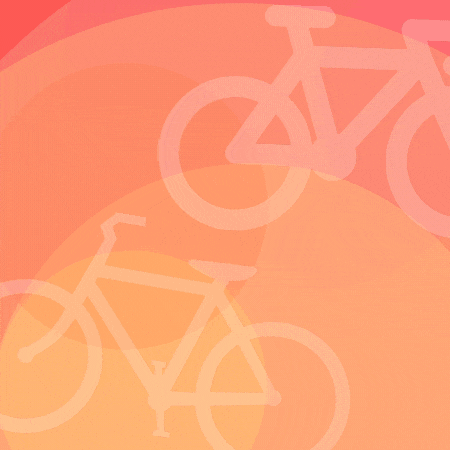 Every cyclist knows that having the ability to remain tuned in to your surroundings with your natural hearing ability is crucial for the overall safety of you and those around you.
And, if you don't know already, prolonged exposure to wind noise while cycling can permanently damage hearing if one does not take measures to prevent it.
Top 5 Models Comparison Table
So, take the earbuds out for a little while and give your ears a rest. The remainder of this guide ahead will introduce you to some of the best wind noise reducers on the market, and inform you on how to best decide on your next wind noise reducer purchase.
Best Cycling Wind Noise Reducer Reviews
1. AirStreamz Cycling Reducer – Editor's Pick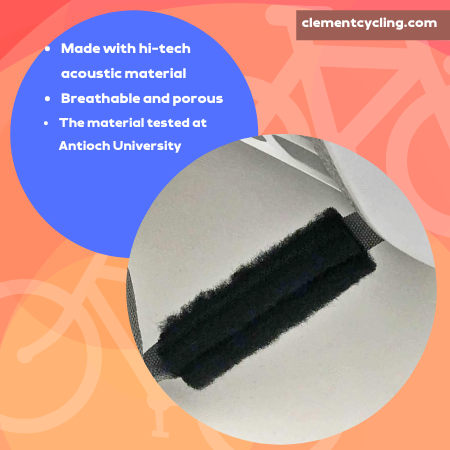 The AirStreamz Cycling Wind Noise Reducers are designed with one thing in mind, to reduce wind noise, and wind noise only.
These wind noise reducers have been tested far and wide and have received praise from the publications Bicycling Magazine and Cycling Tips.
AirStreamz claims that you're perceived wind noise reduction will be approximately sixty percent of what you were used to without them.
With a smart 'flow-through', porous design, they will not leave you uncomfortable and saturated with sweat around your ears. A good, solid choice, with a classic, simple design look.
Pros
Made with hi-tech acoustic material
Breathable and porous
The material tested at Antioch University
Cons
Not made for Specialized, Bern, or Nutcase helmets
2. Wind-Blox Pro Cycling Wind Noise Reducer – Rim-to-Clip Design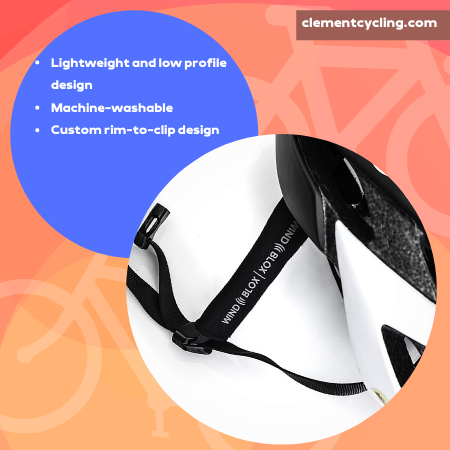 The Wind-Blox Pro – Cycling Wind Noise Reducers have been tested to filter out around eighty percent of perceived wind noise. A number that is not easily beaten.
The Wind-Blox Pro's also feature what is called a rim-to-clip design, patented by the manufacturer for easy attachment and removal to a number of different helmets. They are also machine washable.
With a low profile design, you won't need to worry about overall comfort, or awkward looks while you enjoy your newly discovered audible riding ability.
Pros
Lightweight and low profile design
Machine-washable
Custom rim-to-clip design
Cons
Does not work well with large rigid-temple sunglasses
3. Cat-Ears AirStreamz Slim Cycling Wind Noise Reducer – Most Effective Cycling ear protector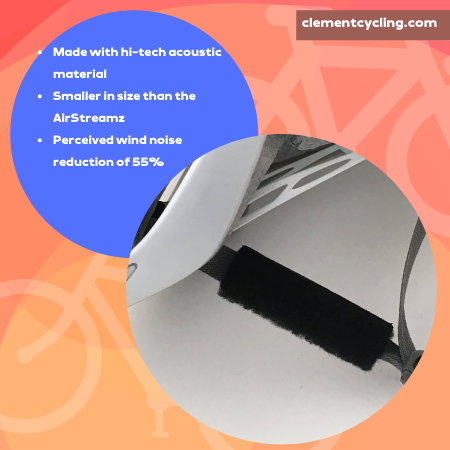 The Cat-Ears Wind Noise Reducers by AirStreamz boasts to be one of the most effective wind noise reducers on the market.
Like it's AirStreamz cousin, these wind noise reducers have been tested thoroughly, and are made from the same high-quality acoustic material.
Bicycling Magazine praised Cat-Ears AirStreamz as number one in the industry stating that the Cat-Ears were, "Our favorite cycling wind gear."
These cycling wind noise reducers are used competitively, casually, and by commuters every day.
Pros
Made with hi-tech acoustic material
Smaller in size than the AirStreamz
Perceived wind noise reduction of 55%
Cons
Not made for Specialized, Bern, or Nutcase helmets
4. Wind-Blox Classic – High Quality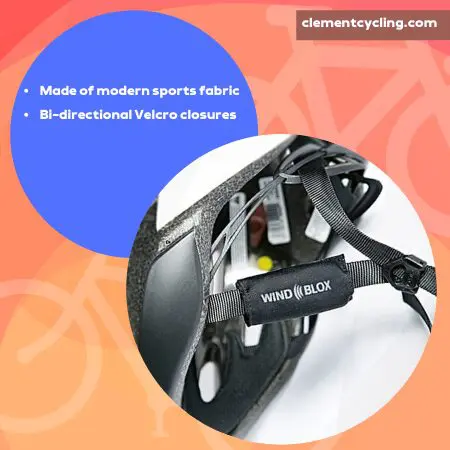 The Wind-Blox Classic is yet another high-quality and high-performing wind noise reducer. Wind-Blox claims that under ideal conditions, you can enjoy up to an eighty percent reduction in wind noise.
This is achievable with the help of the Wind-Blox grip-strips, which keep the wind noise reducers in the proper place during most any cycling routine or challenge.
With quick bi-directional Velcro secured enclosures, the Wind-Blox classics only take seconds to put on or take off. No dissembling of helmet straps is required. What a relief. Also, very easy to wash too.
Pros
Made of modern sports fabric
Bi-directional Velcro closures
Cons
A bit bulkier than other models
5. Wind-Blox Pro XL – Wind Noise Reducer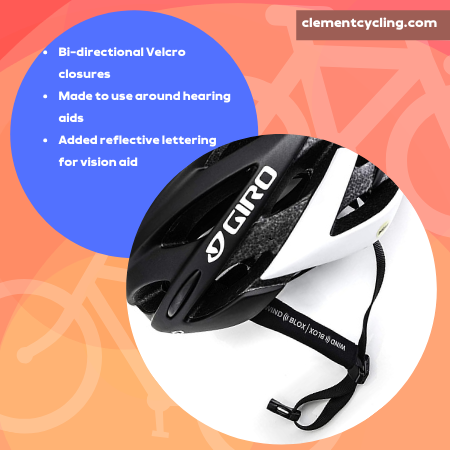 The Wind-Blox Pro XL – Wind Noise Reducers will do everything the Wind-Blox Pro model does, but are made to fit around more sensitive and prominent ears, or around the ears of those who use hearing aids.
They still come with a bi-directional Velcro brand closure for easy on and off, for switching helmets or just putting them through the wash.
Not to mention they have attractive reflective lettering up and down the side of the product, making you more visible in the evening and nighttime.
Pros
Bi-directional Velcro closures
Made to use around hearing aids
Added reflective lettering for vision aid
Cons
Slightly more bulky than other models
Wind Noise Reducer for Cycling Buying Considerations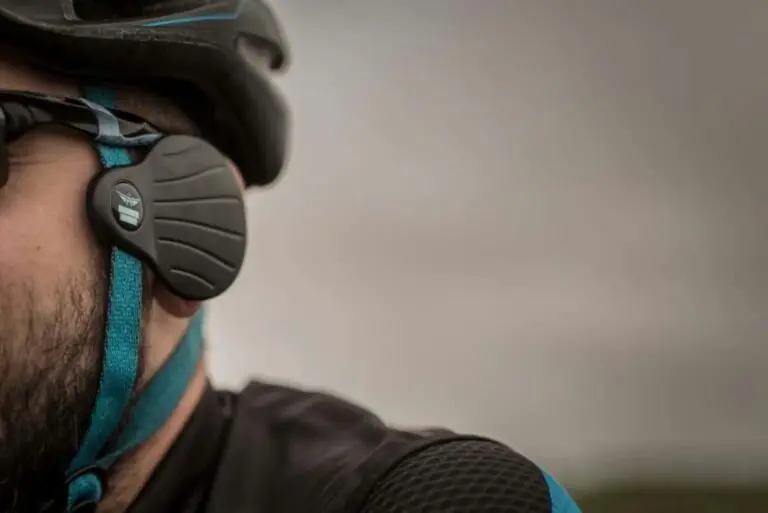 Well, hopefully, you have a pretty good idea moving forward on what to consider and compare to when deciding upon a new purchase involving the latest wind noise reducers.
Most of the selections outlined above are going to prove useful, and it will be important to consider the basic foundation of what will be needed to complete the comfort and quality of the wind noise reducers you choose.
The material used, the size, and the proven research and testing will prove to be areas you will want to maintain attention to. The material quality will determine usefulness and effectiveness, along with comfort when comparing it with size.
The proven research and testing should only make you feel even more comfortable with your purchase.
With these specifics in mind, try to strike a balance between comfort, quality, and effectiveness when you make your next wind noise reducer purchase for the cycling adventures ahead.
Comfort, Design, and Durability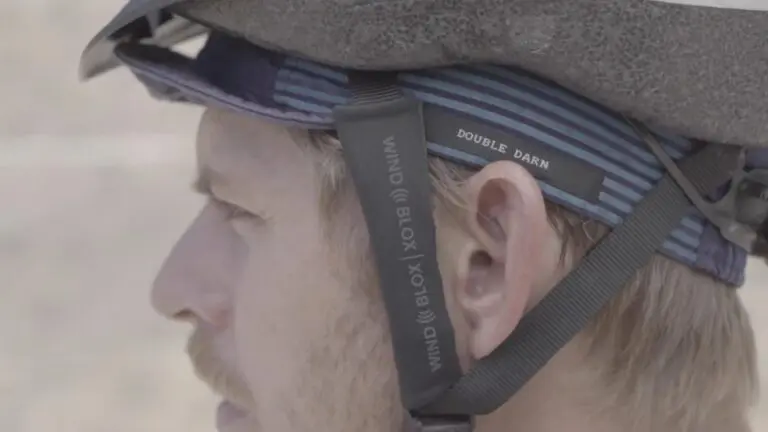 Undoubtedly, the benefits of owning a set of wind noise reducers are plenty. You know this already. But, if you can't stand wearing them, or they fall apart after a single run through the wash, how long are you really going to use them?
Enter into play comfort, design, and proven durability. Beyond the matters of health, lie the issues of comfort, a delicate compromise to be made.
It does not have to be an exhaustive one though, and thankfully, many good manufacturers of wind noise reducers are happy to share with you why their model is suited to handle the job.
Most companies will gladly put the added information regarding why their material and design outperforms the competition, and you can trust that the wind noise reducers you are purchasing, will be well tested, and highly praised.
From specialized sportswear and acoustic material to one-of-a-kind patented closures and clasps, real innovation and a lasting product lie in the balance of comfort, design, and durability.
Proven Research and Field Testing
Secondary to the comfort, design, and durability of your choice in wind noise reducers, will come the proven research and field testing of the product.
As you browse through the available selections of wind noise reducers, take the time to read the wind tunnel test results and the industry praise received by some of the top cycling publications in circulation today.
While you're at it, why not purchase more than one pair? They are a relatively affordable piece of equipment, and you can go ahead and give them a cycling test run of your own.
The Final Word
The mounting benefits of wind noise reducers are undeniable. Can you think of any reason you should ride without them? However, they are not the only solution to the problem as there are other ways ​to reduce wind noise when cycling.
Whether you cycle competitively, casually, or grind it out every day for your daily commute, having the ability to hear your surroundings allows not only for a safer cycling experience but a more pleasant and enjoyable one.
Not to mention the added benefit of simply saving your ears from aches, pains, and potential hearing loss.
Always keep in mind the quality of the materials and the design of the wind noise reducers you are purchasing and look to maximize the balance between comfort, design, durability, and proven results as discussed previously.
By now, you should have been able to take this guide and use it as the road leading you to your next destination in cycling gear, a set of wind noise reducers. If you're still not ready to make a purchase, feel free to use the guide as a reference throughout your wind noise reducer research.
Take a look at these also:
Wind-Blox Pro Noise Block Helmet Attachment Strap, Noise Reduction Bicycle...
Blocks Wind-Powered Noise - Our Pro XL helmet wind blocker attachment straps are specifically engineered to reduce turbulent wind noise by about 80%. This helmet strap...
Safeguards Your Ears - Ear discomfort ruining your ride? Each of our noise blocker strap shields your ears against rough winds and air pressure while cycling. Fasten it...
Designed for Your Convenience - You can quickly attach this wind block helmet strap to your helmet – thanks to its patented rim-to-clip design. It is user-friendly and...
Sleek, Functional Straps - Wearing our noise blocker helmet attachments add an elevated look to your riding gear. They are crafted from modern sports fabric with...
Built to Last - These premium ear noise blockers can withstand multiple, tough road cycling seasons. Carefully developed by engineers, our biking helmet essential...
Wind-Blox Focus Bike Helmet Pads, Ear Warmer, Helmet Wind Blocker for Audible...
Developed for Audible Riding - Our Focus bike helmet for winter cushion pads are specifically engineered to reduce wind noise by up to 80%. These pads allow for increased...
Earbuds Compatible - Enjoy your podcasts and playlists where allowed without compromising safety with these bike helmet pads. Their soft fabric interior improves the...
Full Ear Coverage and Comfort - Experience proper coverage and warm winter comfort in every ride. Made of soft-shell, waterproof fabric, these pads double as cycling ear...
Stays Securely in Place - Worried about helmet accessories falling off in between bike rides? Our helmet strap stays attached to your helmet with a simple grip and go. It...
Built for Safety & Durability - Our top-grade bike helmet pads stay on your helmet for all-season road cycling. especially in winter They also have reflective lettering...