Table could not be displayed.
When you're cycling, you want to be focused on the path ahead of you, reaching your goals, and enjoying your ride. What you don't want to be focused on is having to stop to remove fog from your cycling glasses.
That's where anti-fog cycling glasses come in. With the right pair, you won't have to worry about your ride being ruined by fog. These glasses typically work by minimizing the surface tension of water, making it so that any moisture is spread in a thin, transparent layer across both of the lenses rather than resulting in droplets that can blur your vision or otherwise make it difficult to see.
Of course, with the multitude of cycling glasses on the market, it's important to note that not all will be right for you – and not all will be the best when it comes to decreasing keeping fog from interfering with your cycling.
However, we've come up with a comprehensive review of some of the top anti-fog cycling glasses available to help you determine what to look for when purchasing your pair. Read on for side-by-side comparisons with product reviews that'll help you get a solid handle on the market and which glasses will work best for you!
Top 5 Model Comparison Table
| ​Image | Glasses | UV Protection | Bridge | ​Rating |
| --- | --- | --- | --- | --- |
| | Editors Choice | 100% UV Protection | SOFT 1.0, not adjustable | 5.0 |
| | | 100% UV Protection | Adjustable | 4.9 |
| | | 100% UV Protection | Rubber, not adjustable | 4.7 |
| | | 100% UV Protection | Rubber, not adjustable | 4.7 |
| | | 90% UV Protection | Plastic, adjustable. Max diameter: 1" | 4.5 |
Best Anti-Fog Cycling Glasses Reviews
1. JiMarti TR90 Unbreakable

These JiMarti sport sunglasses include a half-rimmed design for increased field of vision and sun protection. The shatterproof polycarbonate lenses are designed to reduce fog, scratches, and glare. The frame is made from TR90 and is designed to be shatterproof as well. In keeping with this, JiMarti offers a lifetime breakage warranty for the product.
They are lightweight, suitable for wear with helmets, and wrap around the face. It's important to note that though there is ample field of view, the lenses on these glasses are not polarized.
The glasses also feature rubber gripping on the earpieces for long-wear comfort. The nosepiece on the bridge is silicone. It is possible for the nosepiece to detach from the frame, and it may be difficult to reattach.
This product comes in multiple colors, and generally fit as expected.
Pros
Shatterproof lenses and frame
Lightweight, wraparound design
Lifetime breakage warranty
Cons
Lenses are not polarized
Nosepiece can be difficult to reattach
2. Bertoni Sports Polarized Sunglasses

The Bertoni sports sunglasses feature removable lenses for easy cleaning, as well as a shatterproof and flexible frame. The glasses also include an adjustable nose piece for optimal comfort, and can also be height and distance adjusted to prevent fogging and misting from the face.
Additionally, the glasses come with rubber grips at the arms to keep the glasses from slipping during regular wear.
The lenses of these sunglasses combine both polarizing and photochromic features for optimal UV protection and to accommodate changes in lighting.
Though the lenses are designed to prevent fogging, there are instances during exercise in which the glasses are prone to fog. On top of that, the cost of these glasses is on the higher side.
The product comes in two colors, and generally fit as expected.
Pros
Lenses include polarizing and photochromic features
Glasses are adjustable to face size and shape
Cons
Glasses may be prone to fog
The cost of glasses ranges on the more expensive side
3. XAegis Tactical Eyewear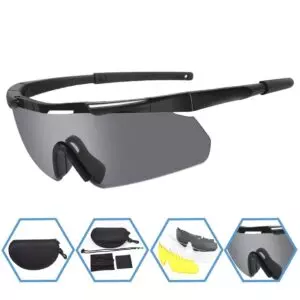 The XAegis sunglasses come with three interchangeable lenses – yellow, smoke, and clear – to make them optimized for any kind of light. The polycarbonate lenses are designed to be anti-fog, as well as scratch and impact resistant with UV/UVB protection.
The frame of these glasses is lightweight and comes with a rubber nose bridge and ear grips for comfort during regular wear. The glasses also come with a hard shell zippered case and drawstring bag for protection when the glasses are not in use.
The narrow size of the bridge may make it so that some users may have to wear the glasses towards the very top or bottom of their nose. Additionally, the large size of the glasses makes them difficult to wear with hats or helmets.
This product comes in multiple colors.
Pros
The lightweight frame is designed for durability and ease of use
Polycarbonate lenses designed for anti-fog and UV protection
Cons
A narrow bridge may make wear difficult for some users
The large size of glasses may make it difficult to wear the product with hats or helmets
4. JOGVELO Polarized Sports

The JOGVELO sunglasses are designed with polycarbonate lenses and frames for lightweight flexibility. These glasses are made to be impact and scratch-resistant, as well as anti-fogging.
The lenses are coated with full REVO to block UV while maintaining solid visibility. 5 interchangeable lenses are included: multi-color, yellow, blue, transparent, and black. This is intended for optimal visibility in any lighting circumstance.
It's important to note that only one of the included lenses are polarized; however, all five are UV protected.
JOGVELO has a 30-day money-back guarantee for these glasses.
This product comes in multiple colors and fits most faces.
Pros
Polycarbonate frame supports flexibility
Cons
Only one of the 5 lenses are polarized
No known warranty or support after the 30-day money-back guarantee
5. NoCry Safety Glasses

The NoCry Safety Glasses are designed to protect eyes both directly and at the sides of the face. The lenses are double-coated and untainted for optimal visibility without fogging or distortion.
These glasses are made with latex-free polycarbonate, have a total frame width of 6 inches, and a total frame height of 1.77 inches. Additionally, they're designed with soft rubber ear grips and extendable arms for a comfortable fit on a variety of head or face shapes. The nosepiece is adjustable.
They're designed to be wearable under masks or helmets, but cannot be worn over prescription glasses.
While doing physical activity, these glasses may end up fogging up a little. Additionally, though the earpieces are designed for comfort, the plastic seam can create irritation with longer wear.
Pros
Designed with latex-free polycarbonate
Adjustable nosepiece
Cons
Cannot be worn over prescription glasses
May fog up during physical activity
May create irritation with longer wear
Anti-Fog Cycling Glasses Buying Considerations
As you can see, there are several options when it comes to identifying which pair of anti-fogging glasses will work best for you. When making your decision, it's important to think about several factors that may tip the scales one way or the other.
The Importance of Anti-Fogging Technology
Finding a solid pair of cycling glasses with both solid UV protection and an anti-fogging system is incredibly important, especially if you're going on longer rides in which the weather may not always be cooperating. Identifying the kinds of climate and terrain that you'll be cycling in is an important step in determining the levels of UV, anti-fogging, and anti-distortion protection you'll need.
Determine Your Normal Wear
Another thing to think about is the frequency of which you'll be using the glasses. By determining this, you can get an idea of the general wear and tear that might come about with regular use – as well as the kinds of material that will prevent that from happening too quickly. Further, it may be important to think about the future of your glasses – whether or not they'll be durable enough to withstand years of use. Weighing price, return policy, and both frame and lens durability is key, and can certainly make a difference in the long run.
Factor In Comfort
Finally, you may want to think about flexibility and comfort when it comes to wearing the glasses long-term. Whether you're looking for something adjustable or a one-size-fits-all solution, considering your own comfort level in the glasses is necessary.
The Final Word
The proper cycling gear will only enhance your experience with each ride. Finding the right anti-fogging cycling glasses can be a huge part of this. Cycling without anti-fogging glasses can at best make it difficult to enjoy your ride – and at worst, have you stopping frequently to manually de-fog. As you look for the glasses that'll fit your needs best and consider the multitude of options available to you, planning ahead can help you come to your decision.
Being aware of the kinds of features that may be most useful to you can be helpful, as well as determining the kind of budget you'd like to allocate to this kind of gear.
The 5 anti-fogging glasses we've reviewed here each come with their own set of potential pros and cons, and depending on your specific needs, some may be a better choice than others. When it comes down to making your final choice, keep in mind the designs and functions that will most benefit your day-to-day use. No matter your skill level, having the anti-fogging glasses that work best for you is a great way to set yourself up for cycling success!
Take a look at some other models available right now:
No products found.
Related Reviews:
Best Cycling Wind Noise Reducer
Best GPS Watch for Mountain Biking