evomosa Motorcycle Goggles Vintage Leather Pilot Style Aviator Goggles for Men...
GLX M14 Cruiser Scooter Motorcycle Half Helmet with Free Tinted Retractable...
SMART DEALSNOW Brings Brand New 50cc Gas Fully Automatic Street Legal Scooter...
Razor Pocket Mod Bellezza - 36V Euro-Style Electric Scooter for Ages 14+, Up to...
SMART DEALSNOW Brings Brand New 50cc Gas Fully Automatic Street Legal Scooter...
Scooters are making a huge comeback in recent years and they have gone a long way from being transportation for elderly people and romantic rides. Today, bike manufacturers are making scooters that would make Audrey Hepburn climb aboard one behind Gregory Peck.
Modern scooters aren't built just for narrow city streets, they can handle some serious long-range rides. Due to their power and speed, more and more people use them as commuters. Markings like GT and R, usually reserved for bigger marks, more often appear on scooters, designating them as fast machines, capable of some serious speed.
And what about electric scooters?
It didn't take long for electric scooters to take over. According to Extreme-Dream Right after the popularization of electric cars, various types of electric scooters appealed to riders from all over the world. Usually, people who live in cities opt for these scooters as they are small and they are great for transportation in crowded places. 
Furthermore, electric scooters are easy for maintenance and they don't occupy almost any space, making it just the perfect choice for cities. Not only are scooters low-cost and low-maintenance, buying insurance for your insurance is also very affordable, according to InsurancePanda. You can read various reviews on the fastest electric scooters here if that is what you want to know in more details. 
However, you can proceed to 9 of the fastest ones in various categories below:
9. Vespa GTS 300 Super
When you combine a classic Italian look with a sporty feel, you get Vespa GTS 300 Super. Not only it looks just like it rolled out from the set of Roman Holiday, but it is also fast. With 278cc, GTS 300 features the largest engine Vespa ever installed in one of their scooters. It has a max speed of 74 km/h. Both front and rear breaking discs now have ABS and Piaggio's ASR system for increased safety. Headlamp, although featuring a classic design, is also updated with LED lights. If you prefer an elegant ride through the city with this beauty, you can check ScooterHireMelbourne.com to find the right for you.
Check parts on Amazon.
8. YAMAHA Zuma 50F
When you think about an off-road ride, scooters aren't the first thing that comes to find. Yamaha decided to challenge that stereotype and design one that can actually provide some cross-country experience. Zuma 50F features a 49cc engine, just enough to push it through some flat forest, but don't expect to race it on some dirt track.
Check parts on Amazon.
7. BMW C 650 GT
At a first glance, BMW C 650 GT doesn't even look like a scooter, resembling more classic BMW cruisers. Designed for a long ride, opposing the traditional image of urban scooters, C 650 GT has a large engine with 60 horsepower to make those rides enjoyable. It won't tear up the asphalt, but it does have enough power to provide a safe take over of slower vehicles.
Check parts on Amazon.
6. Honda PCX
Honda PCX provides two most important functions of a scooter: it looks very stylish and it rides incredibly well. With a 53cc four-stroke engine, PCX can reach 100 mph easily. On top of that, the designers outdid themselves when creating the body, which looks magnificently.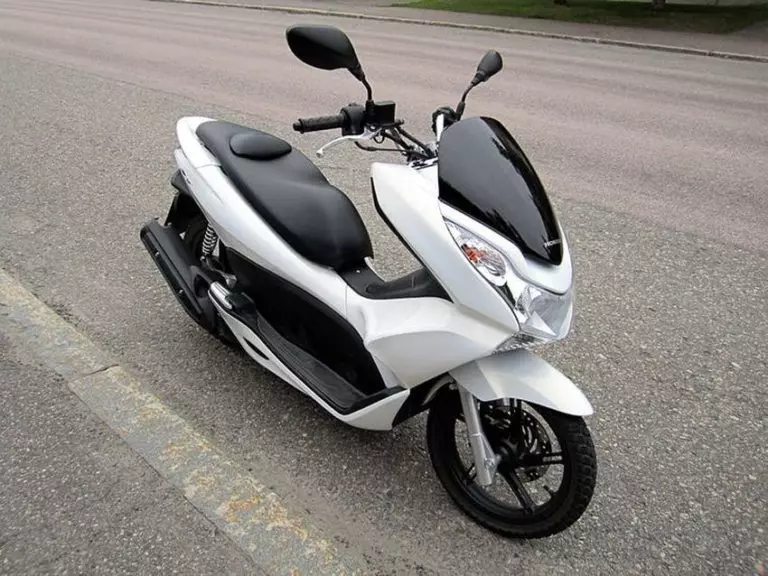 Check parts on Amazon.
5. TVS Jupiter
When you look at the TVS Jupiter's 110cc engine, you won't be instantly impressed. That is until you sit on it and turn the throttle. This scooter is built for speed, despite the fact that its engine appears rather small. It can still develop some serious road speed and cause an adrenaline rush.
4. Honda Grazia
A Japanese scooter with an Italian name, Honda Grazia is trying to combine the best of both worlds, and largely succeeding in that. With a 125cc engine, Grazia is among the fastest scooters in its category. The engine delivers 10.54Nm and 8.63 PS, enough for a top speed of 85 kph or 53 mph. Add the beautiful design and you can easily see why it has taken the hearts of many riders worldwide.
3. TVS Wego
Another TVS's scooter, Wego is very similar to Jupiter. The engine displacement is 109.7cc and it's air-cooled, like many other smaller scooters on our list. It is slightly faster than Jupiter and develops 8.4 Nm, opposed to 8 Nm Jupiter delivers. A difference of 0.4 Nm may seem insignificant, but on these small scooters, it can mean a world of difference, especially during a hill climb.
2. TVS Ntorq
TVS also offers bigger scooters, like the Ntorq. It has got a 125cc, three-cylinder engine, delivering 10.5 Nm at 5500rpm and 9.4 PS at 7500rpm. Matched with a CVT gearbox, it allows Ntorq to develop a top speed of 95 kph or almost 60 mph. This makes it faster than Honda Grazia and many other scooters in the 125cc category.
1. Aprilia SR 150 Race
The epitome of a racing scooter, Aprilia SR 150 Race is all you can ask from a scooter, and then some. Fast and nimble, it is ideal for rush hour in a city, zooming in and out of traffic like an angry mosquito, paying no heed to congestion and trapped car drivers. Its 154.8 cc engine delivers 10.5 PS and 11.5 Nm of torque, enough for a top speed of 98.7 kph or 61 mph, more than enough to allow for even longer rides outside city limits.
Learn more about how long do electric scooter batteries last and which are the best electric scooters this year in our related articles.